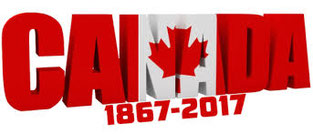 Canada feiert 150 Jahre - Eine Reise im Jahr 2017
Kanada wurde im Jahr 2017 150 Jahre alt und wir waren auch dort...
Nun sind wir aber wieder vom amerikanischen Kontinent zurück.
Seht selber...
-----------------------------------------------------------------------------
Canada became 150 years old in 2017 and we were there too...
Now we are back from the American continent.
see for yourself...
Los gehts...
Die Umsetzung war so fast so wie geplant.
Es sollte eine Reise von Calgary nach Vancouver werden, quer durch die Rockies... 
Wir flogen mit unseren Freunden ab Frankfurt nach Calgary im Bundesstaat Alberta mit Condor.
Dort haben wir bei Alamo, einer großen Rent a Car - Firma, am Airport unseren Leihwagen abgeholt, einen Ford Explorer.
Die erste Nacht in Canada verbrachten dann wir in Calgary Süd.
Die Reiseroute, den Leihwagen und die Hotels hatte ich von Deutschland aus gebucht und reserviert, was dank sei Internet, alles perfekt funktionierte.
Here we go...
The implementation was almost as planned.
It should be a trip from Calgary to Vancouver, across the Rockies ...
We flew with our friends from Frankfurt to Calgary AB with the airline Condor.
We picked up our rental car at Alamo at the airport, a Ford Explorer. Just crazy
The first night in Canada we spent in Calgary South.
The trip, the rental car and the hotels I booked from Germany and reserved, which thanks to the internet, everything worked perfectly.
Die erste Etappe (ca. 290 km)
die Fahrt führte uns von Calgary über den Highway one vorbei am Lac des Arcs, an Banff, am Lake Louise nach Golden.
Der Weg führt durch romantische Wälder, vorbei an Gletscherbächen und Seen. Wir fahren über den traumhaften "Bow Valley Parkway", von dem wunderschöne Ausblicke hatten.In Golden sahen wir sogar eine Schwarzbärin mit ihrem Jungen.
Am Lake Louise spiegelten sich Wälder und Berggipfel im Wasser. Der See gilt als der schönste und meistbesuchte See der kanadischen Rockies. Er war auch entsprechend besucht.
Wir hatten etwas Zeit für Spaziergänge am See und am Nachmittag konnten wir einen Kaffee auf der Terrasse des Hotels "Fairmont Chateau" trinken.
Am Nachmittag ging es weiter nach Golden zur "Palliser Logde".
The first stage (290 km)
The ride took us from Calgary across Highway one past the "Lac des Arcs", Banff, and "Lake Louise" to Golden.
The trail leads through romantic forests, past glacier brooks and lakes. We drive over the fantastic "Bow Valley Parkway", from which beautiful views had. In Golden we even saw a black bear with her baby.
Die zweite Etappe (320 km)
Sie führte uns von Golden quer durch die Rockies nach Cheese. Vorbei am 
Glacier National Park of Canada, am Hemlock Grove Boardwalk, am Canyon Hot Springs, Giant Cedars Boardwalk Trail, Mount-Revelstoke-Nationalpark, an Revelstoke, am Shuswap Lake und am kleinen Shuswap Lake.
Es waren so viele Eindrücke von mächtiger Natur...
Leider sahen wir auch einige Waldbrände die auf Grund der seit 3 Monaten vorherrschenden Hitze und Trockenheit überall drohten auszubrechen.
Alles war irgendwie gigantischer. So zählten wir zu Beispiel bei den Güterzügen 153 Wagons und 4 Dieselloks. Sie waren also rund 4000m lang!
The second stage (320 km)
She took us from Golden across the Rockies to Cheese. Past the
Glacier National Park of Canada, the Hemlock Grove Boardwalk, Canyon Hot Springs, Giant Cedars Boardwalk Trail, Mount Revelstoke National Park, Revelstoke, Shuswap Lake and small Shuswap Lake.
There were so many impressions of powerful nature ...
Unfortunately, we also saw some forest fires that were threatened by the heat and drought that had prevailed for 3 months.
Everything was more gigantic. For example, the freight trains had 153 wagons and 4 diesel locomotives and thus a length of almost 4 km!
Wir erkundeten die Gegend um Cheese herum, waren am 
Roderick Haig - Brown Provincial Park, am Adams Lake, bei der Adams Lake Forstindustrie, am Sockeye Salmon Run, in Sorrento und in "the Blind Bay"
We explored the area around Cheese.
Roderick Haig - Brown Provincial Park, Adams Lake, Adams Lake Forestry,
Sockeye Salmon Run, Sorrento and the Blind Bay
Dritte Etappe (410 km)
nun geht es weiter Richtung Westen, vorbei an Kamloops zum Kamloops Lake. In Cache Creek verließen wir den Highway one und bogen auf den Cariboo Hwy Richtung Norden ab. Wir folgten der Straße bis zur historischen "Hat Creek Ranch", welche wir uns natürlich auch anschauten.
Dann ging es weiter Richtung Westen auf dem Hwy 99 durch das Fountain Indianer Reservat, vorbei am Seton Lake und am Duffey Lake, am Lillooet Lake, weiter auf dem Sea-to-Sky Highway über Whistler nach Squamish, wo wir wieder Quartier bezogen.
Third stage (410 km)
continue westwards, past Kamloops to Kamloops Lake. In Cache Creek, we left Highway one and headed for the Cariboo Hwy to the north. We followed the road to the historic "Hat Creek Ranch", which of course we also looked at.
Then we continued west on Hwy 99 through the Fountain Indian Reservation, passing the Seton Lake and the Duffey Lake, on Lillooet Lake, continue along the Sea-to-Sky Highway through Whistler to Squamish where we moved into quarters again.
Nun machten wir die Gegend um Whistler und Squamish unsicher...
Now we were uncertain about the area around Whistler and Squamish
Vierte Etappe (160 km + Fähre)
nun geht es von Squamish auf dem Hwy BC99 weiter zum "BC Ferries Horseshoe Bay", dem Fährhafen Richtung Vancouver Island und anderen Richtungen. Ticket gelöst und dann in ca. 1,5 Stunden Nanaimo auf Vancouver Island erreicht um dort weiter Richtung Victoria zu fahren.
Inzwischen hatten wir Temperaturen von rund 36 Grad Celsius...
Fourth stage (160 km + ferry)
then continue from Squamish on the Hwy BC99 to the "BC Ferries Horseshoe Bay", the ferry port towards Vancouver Island and other directions. Ticket and then in about 1.5 hours Nanaimo on Vancouver Island to drive to Victoria.
Meanwhile, we had temperatures of about 36 degrees Celsius ...
Nun eroberten wir Victoria und sahen uns alles an: den Umkreis des "Inner Harbour", neben dem Parlamentsgebäude ist das direkt am Hafen gelegene "Fairmont Empress Hotel", eines der bekanntesten Gebäude in Victoria. Das Parlamentsgebäude und seine Umgebung gehören mit ihren 4 Hektar zu den wertvollsten Grundstücken in der gesamten Provinz. Unweit des Parlamentsgebäudes befindet sich das wichtigste Museum neben dem "Museum of Anthropology" in Vancouver. Das älteste Gebäude der Stadt, das nach John Sebastian Helmcken benannte Helmcken House befindet sich direkt neben der ältesten Schule der Stadt, das St Ann's Schoolhouse von 1858. Im Westen befindet sich das Hatley Castle von 1908. Sieben der elf dicksten Douglasien Kanadas sollen dort stehen.
Auch eine Wal-Watching-Tour unternahmen wir und sahen dabei viele Orca-Familien sowie einen Buckelwal.
Now we conquered Victoria and looked at everything: the "Inner Harbor", next to the Parliament building is the "Fairmont Empress Hotel", one of the most famous buildings in Victoria. The Parliament building and its surroundings, with its 4 hectares, are among the most valuable properties in the entire province. Not far from the Parliament building is the most important museum next to the "Museum of Anthropology" in Vancouver. The oldest building in the city, the Helmcken House named after John Sebastian Helmcken, is right next to the oldest school in the city, the St Ann's Schoolhouse from 1858.
The Hatley Castle of 1908 is situated in the west. Seven of the eleven thickest Douglasians in Canada are to be found there.
We also undertook a whale-watching tour and saw many Orca families as well as a humpback whale.
Fünfte Etappe (300km)
Wir verlassen Victoria und fahren durch die wilde Landschaft von Vancouver Island an die Westküste nach Ucluelet ("Uci" sagen liebevoll die Einheimischen, da sie den Namen wohl auch nicht richtig aussprechen können...)
Wir bleiben ein paar Tage und fahren dann an die Ostküste nach Comox.
(weitere 180km)
Fifth stage (300km)
We leave Victoria and drive through the wild landscape of Vancouver Island to the west coast to Ucluelet ("Uci" say lovingly the locals, since they can not pronounce the name also correctly...)
We stay a few days and then drive to the east coast to Comox.
(more 180km)
Die sechste Etappe (ca 230km)
Wir starteten in Comox mit der Fähre Richtung Festland. Dort fuhren wir auf dem Sunshine-Coast Highway in Richtung Süden.
In Golden übernachteten wir noch einmal, bevor es dann weiter nach Vancouver ging.
The sixth stage (230km)
We started in Comox by ferry to the mainland. We drove south on the Sunshine Coast Highway, we spent the night in Golden before moving on to Vancouver.
Vancouver
hier blieben wir für den Rest unserer Zeit, erforschten die Stadt zu Fuß, mit dem Sightseeing-"Hop on Hop off" Bus und mit dem Wasserflugzeug.
Dabei haben auch wir gemerkt, dass Vancouver eine der beliebtesten Großstädte der Welt ist... 
Here we stayed for the rest of our time, exploring the city on foot, with the sightseeing "Hop on Hop off" bus and with the seaplane.
We have also noticed that Vancouver is one of the most popular cities in the world...
Alles hat einmal ein Ende und  somit mussten wir auch wieder zurück nach Deutschland fliegen. Es war ein Nachtflug mit einer um 9 Stunden verkürzten Nacht...
Everything has ended once and so we had to fly back to Germany. It was a night flight with a night shortened by 9 hours ...