Ligurien - 2017
Ligurien ist eine Reise wert...
an der Riviera di Levante lässt es sich gut aushalten. Jede der Gemeinden sollte man besucht haben.
Liguria is worth a trip ...
On the Riviera di Levante it is a good place to go. Each of the municipalities should be visited.
Genua
Die größte Stadt Liguriens liegt rund 30 km von Santa Margherita Ligure entfernt und ist nicht nur das wirtschaftliche Zentrum der Region, sondern auch unser Reiseziel.
Wir sind mit dem Auto angereist und konnten es am Hafen in einer Parkgarage abstellen. Dann erkundeten wir die Stadt zu Fuß... 
The largest city in Liguria is located about 30 km from Santa Margherita Ligure and is not only the economic center of the region, but also our destination.
We arrived by car and could park it at the port in a parking garage. Then we explored the city on foot ... 
Ligurien - Riviera di Levante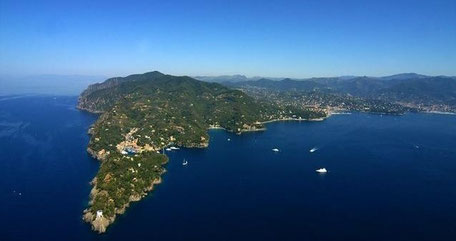 Portofino
Die Gemeinde liegt nur wenige Kilometer von S. Margherita Ligure entfernt in einer Bucht zu Füßen des gleichnamigen Vorgebirges, im Golf von Tigullien.
Portofino gehört gemeinsam mit sechs anderen ligurischen Gemeinden zum regionalen Naturpark von Portofino und ist ein exclusives Fleckchen Erde...
The municipality is located just a few kilometers from S. Margherita Ligure in a bay at the foot of the promontory of the same name, in the Gulf of Tigullien.
Portofino, together with six other Ligurian communities, is part of the regional natural park of Portofino and is an exclusive spot on earth ...
Santa Margherita Ligure
Die dokumentierte Geschichte von Santa Margherita begann im Mittelalter. Nachdem der Ort ein Lehen der Familie Fieschi gewesen war, geriet er im 13. Jahrhundert unter die Kontrolle von Genua. Dieser Zustand dauerte bis zum Ende des 18. Jahrhunderts. 
Heute ist es einer der schicksten Orte an der Riviera. In der Vorsaison ist alles noch sehr überschaubar (auch die Preise der Hotels)...
The documented history of Santa Margherita began in the Middle Ages. After being a fief of the Fieschi family, the place came under the control of Genoa in the 13th century. This condition lasted until the end of the 18th century.
Today it is one of the fanciest places on the Riviera. In the preseason everything is still very manageable (also the prices of the hotels) ...
Rapallo
ist der größte Badeort mit ca. 30000 Einwohnern an der Riviera di Levante und liegt ca. 35km östlich von Genua. Rapallo wurde ca. 700 v. Chr. besiedelt.
is the largest seaside resort with about 30000 inhabitants on the Riviera di Levante and is located about 35km east of Genoa. Rapallo was around 700 BC. Colonized.
Chiavari
liegt an der Mündung des Flusses Entella, stammt aus vorrömischer Zeit und hat ca. 27000 Einwohner. Wir haben Chiavari mit dem Bus und der Bahn bereist...
lies at the mouth of the river Entella, dates back to pre-Roman times and has about 27000 inhabitants. We traveled Chiavari by bus and train ...
Camogli
wurde im Mittelalter "die Stadt der tausend weißen Segelschiffe" genannt und hat heute ca. 5400 Einwohner. Camogli liegt auf der Westseite der Halbinsel von Portofino, am Golfo Paradiso an der Riviera di Levante. Der Name bedeutet "Haus der Ehefrauen" (casa delle mogli). Zu Camogli gehört der größte Teil des Parco Naturale Regionale di Portofino, sowie ein Teil des Meeresschutzgebiets Portofino.
was called in the Middle Ages "the city of a thousand white sailing ships" and today has about 5400 inhabitants. Camogli is located on the west side of the peninsula of Portofino, on the Golfo Paradiso on the Riviera di Levante. The name means "House of Wives" (casa delle mogli). Camogli includes most of Parco Naturale Regionale di Portofino and part of the Portofino Marine Protected Area.
Zoagli
hat 2500 Einwohner. Das Zentrum "Semorile" befindet sich am Fuße eines natürlichen Amphitheaters an dessen Hängen sich eine Vielzahl kleiner Wege zu den weiteren Ortsteilen San Pietro di Rovereto, Sant'Ambrogio und San Pantaleo hochziehen.
has 2500 inhabitants. The center "Semorile" is located at the foot of a natural amphitheater on whose slopes a variety of small roads to the other hamlets of San Pietro di Rovereto, Sant'Ambrogio and San Pantaleo pull up.
Moneglia
Die Gemeinde liegt in der Nähe des Petroniotals an der Riviera di Levante. Die Entfernung zu der ligurischen Hauptstadt Genua beträgt etwa 55 Kilometer.
Die Ortschaft liegt in einer von zwei Gebirgsvorsprüngen begrenzten Bucht und ist von einer reichen mediterranen Vegetation umgeben. Im Westen liegt der Gebirgsvorsprung Punta Moneglia (auch Monte Venino), im Osten der Punta Rospo.
The municipality is located near the Petroni Valley on the Riviera di Levante. The distance to the Ligurian capital Genoa is about 55 kilometers.
The village is located in a bay bounded by two promontories and is surrounded by rich Mediterranean vegetation. To the west is the mountain promontory Punta Moneglia (also Monte Venino), in the east of Punta Rospo.
Pisa
liegt in der Toskana, nahe der Mündung des Arno in die Legurische See und hat ca. 90000 Einwohner. Die besonderen Sehenswürdigkeiten sind die Taufkirche, das Camposanto Monumentale, die Piazza dei Cavalieri, der Dom sowie der Schiefe Turm von Pisa.
is located in Tuscany, near the mouth of the Arno in the Legurian Sea and has about 90000 inhabitants. The main attractions are the Baptistery, the Camposanto Monumentale, the Piazza dei Cavalieri, the Duomo and the Leaning Tower of Pisa.
Como
liegt in den Alpen am gleichnamigen See und ist gut geeignet für einen Zwischenstop bzw. einen längeren Aufenthalt...
is located in the Alps on the lake of the same name and is well suited for a stopover or a longer stay ...