Sansibar 2013
Zanzibar 2013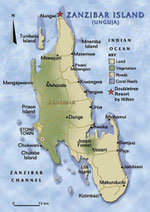 Nach den stressreichen Tagen der Safari hatten wir nun knapp 2 Wochen Zeit, uns zu erholen. Dazu benötigten wir nichts weiter als Sonne, Meer und ein tolles Hotel. 
Da wir nun auf einer Paradis-Insel gelandet waren, konnte die Erholung beginnen...
-
After the stressful days of the safari we now had almost 2 weeks to recover. We need nothing more than sun, sea and a great hotel.
Since we were now landed on a paradise island, the recovery could begin ...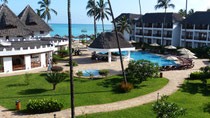 Mit dem "Doubletree Resort by Hilton" hatten wir eine exelente Auswahl getroffen - obere Luxusklasse, all in, unter deutscher Leitung. Da wusste man, was der gestresste Tourist braucht...
(An dieser Stelle auch ein Lob an die Geschäftsführung des Hotels, Familie Sandmann; es war einfach nur perfekt!)
-
With the "Doubletree Resort by Hilton" we had taken a exelente selection - upper luxury class, all-in, under German management. Because you knew what the stressed tourist needs ...
(At this point, a award to the management of the hotel, Family Sandman., It was just perfect!)
hier ein paar Bilder von unserem Hotel - here are some pictures from our hotel
Buckelwale - humpback Whales
Ein besonderer Augenblick war die Sichtung von Buckelwalen. Wir konnten das lustige Treiben der Wale von unserem Hotel aus beobachten. Die Entfernung 2 - 2,5 km.
-
A special moment was the sighting of humpback whales. We could see the funny goings of the whales from our hotel. The distance 2 - 2,5 km.
Nungwi - unser Fischerdorf - our fishing village
Korallenfische vor Sansibar - Coral fish from Zanzibar
Stone Town - Impressions
Auf einer Gewürzplantage - On a spice farm
Ein Ausflug zur Insel Mnemba - Trip to Mnemba Island
Abflug von Sansibar - Departure from Zanzibar